TAKE CARE
How to keep your piece of SILK Jewellery in mint condition
To keep your SILK Jewellery in the utmost condition, follow these simple instructions.

• Avoid contact with cleaning products and make-up.
• Do not wear the piece of jewellery while showering, exercising or sleeping.
• Avoid contact with hard surfaces and other objects.
• Avoid contact with harsh chemicals such as hairspray, perfume and sunscreen.
• Do not spray perfume on the piece of jewellery.
• Polish the piece of jewellery regularly with a silver cloth.
• When you are not wearing the jewellery, store it in the SILK Jewellery box to prevent it from damaging or discolouring.

If you follow these tips, you make sure that your silver jewellery piece stays in good condition. In this way you can wear your piece of SILK jewellery for a long time with great pleasure!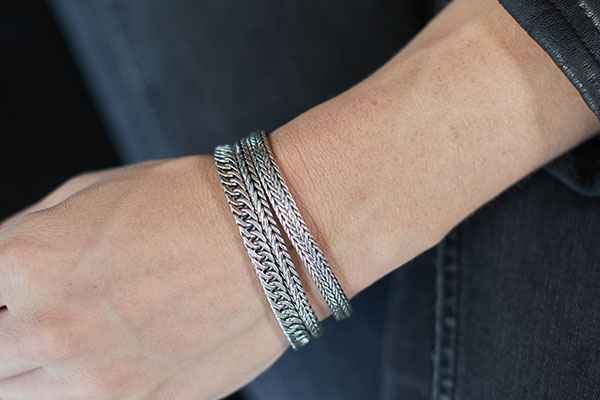 Let it shine
Maintenance silver bracelet
When first purchasing your pieces they will arrive bright and shiny, after some time of wear and unforeseen water exposure the pieces start to have the appearance of a matte finish. We like to think they only get better with age! If however you would like to keep your pieces shiny and bright, these tips will get you started.
MAINTENANCE
TIPS
• We recommend routinely wiping your silver jewellery with the SILK polishing cloth to make it bright and shiny again.
• Remove heavy tarnish with warm water and mild soap. Use a soft cotton or flannel cloth for this, a special silver cleaning cloth or a very soft brush, such as a baby toothbrush.
• We do not recommend silver polish or silver dip cleaning products!
• Regular wear your SILK sterling silver jewellery can also help prevent tarnishing.
• Store your piece of jewellery in an oxygen free place as silver oxidizes when exposed to oxygen. For example, place the piece of jewellery in the SILK box or wrap it in a special silver cloth.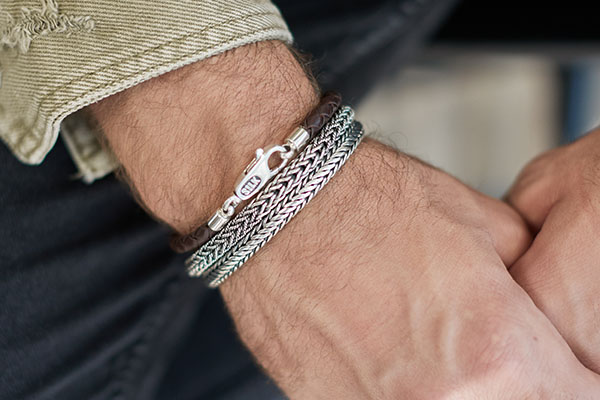 BRASS AND BLACK OXIDE
MAINTENANCE OF RAW EDITIONS
The jewellery from the RAW collection consists of different materials or treatments than the regular silver bracelets from the SILK Collection. RAW Edition pieces will scratch and fade in a way that tells your own story. It is precisely this raw, rough, worn look that makes these bracelets so unique!

Special treatments have been applied to give the piece of jewellery a worn look. For some pieces the sterling silver is matted instead of polished and / or finished with black oxide.

Also, within the RAW line combinations have been made with brass. Like with black, the brass will change colour over time and during the wearing. Pieces of jewellery with this "aged" look will for example show black edges that have been deliberately created to get the wornstyle look. This provides the piece of jewellery it's character.

We recommend that you polish the RAW pieces of jewellery as little as possible. Above all, this oxidized pieces of jewellery should not be cleaned with a silver cleaner or silver dip as this leaves a white, chalky film. This film is almost impossible to remove, only if you would polish the piece of jewellery. But if you polish it, the black becomes shiny silver, which completely changes the look of this piece of jewellery. That would of course be a shame.
KEEP YOUR LEATHER IN SHAPE
THE DO'S AND DON'TS OF LEATHER
In order to enjoy your leather SILK piece of jewellery for a long time, it is important that you treat it correctly. Leather is a natural product and it will last if you maintain it properly.

• Avoid sulphurous substances and chlorine.
• Avoid direct contact of your leather jewellery with chemical agents such as perfume.
• Be careful with moisture. You can gently rub the SILK leather strap with a damp cloth but never immerse it in water.
• You should take off your leather piece of jewellery while showering and swimming!
• Too much moisture is not only damaging for the leather but can also cause the leather to come off the clasp.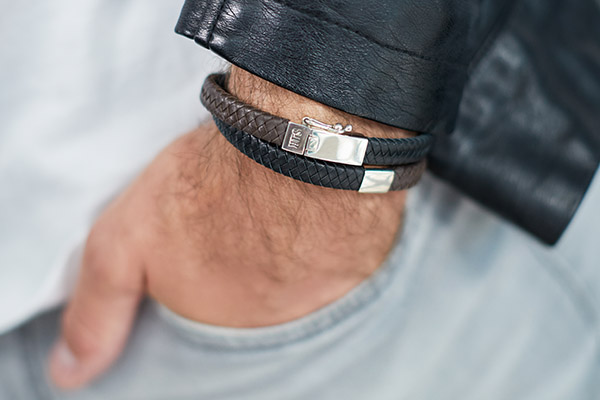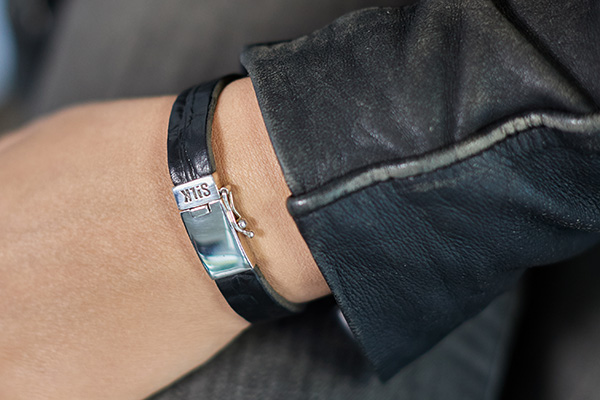 DOES YOUR LEATHER NEED REPLACEMENT
THAT'S ALSO AN OPTION
If your leather bracelet needs to be replaced, we can also arrange this for you. For most bracelets we have the leather in stock and we can easily replace it with new leather for a low cost. Please contact the jeweller where you bought the strap or contact SILK directly if you bought it in the webshop.
PREVENT
DAMAGES
Silver is a softer material than for example gold. It is more vulnerable and more sensitive to scratches, pits and dents. Therefore, wear your silver pieces of jewellery with care and attention and do not wear them when cleaning or performing heavy work.

Also, your pieces of silver SILK jewellery should not be exposed to chlorine, because this will discolour the silver. So always take off your silver jewellery when you go swimming in chlorinated water.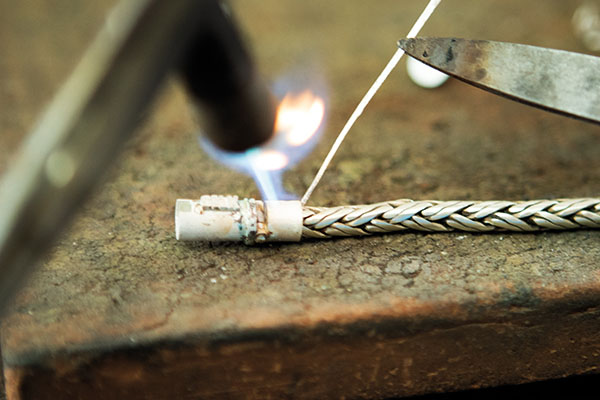 TURNING BLACK
WHY IS MY PIECE OF JEWELLERY
Sometimes silver can turn black due to the acidity of the skin which makes the silver oxidize. The acidity of the skin changes through diet, alcohol consumption and / or the use of medicines. If you notice that this is happening, do not wear the piece of jewellery for a while. After a while the acidity of your skin may change again.

When your silver piece of jewellery oxidizes, you can clean it with the tips described above. To prevent oxidation as much as possible, we also recommend taking off your pieces of SILK jewellery if you sweat a lot, for example when you go sunbathing or exercising.